How to Prepare your Home for the Packers?
Posted on 16Oct 2013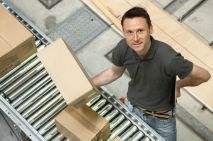 Moving is a process which requires a lot of resources and preparation. People are realizing how important this is, they are aware of the fact that it takes more and more preparation when you relocate and that the resources involved are not infinite. But what people don't realize is that moving does not include only packing, unpacking, loading and unloading things, they also need to prepare their home for the relocation. It may sound a bit silly, but the rest of the article will clarify why and how you can prepare your home for the packers: • You should first de-clutter your home. Go through everything you own and decide what you want to keep and what you don't. And the things that say should stay only because you need them and use them as well, not only because you want those objects. You should start this process with at least a month before your moving day; this way you will have plenty of time to filter your belongings.• Once the de-cluttering process is over, you should take an inventory of everything that`s left. This is like a re-filtering, just to make sure you got everything you need and want and that none of the useless things are being kept for the new home. • The next thing you should do is to find out the protocol of your moving company and whether you will have to move any furniture or other items before they come to your house. If they don't de-assemble furniture, then you will have to take care of that. • When using a removal company, you usually don't have to worry about the packing materials. This is because they are usually provided by the company. If they are not included in the service make sure you get everything by the time the packers arrive. • On the moving day, you should make sure that no clutter is in the house, because this could get in the way. By that day, everything should be prepared for packing and transportation but sometimes, clutter keeps appearing even if you try to keep it away. If hiring packers is not in your budget then the only option you have is to pack everything on your own. This is not an easy job, but as long as you follow some simple rules everything should be fine. As previously mentioned, you will still have to take an inventory of everything you have in the house after the de-cluttering process and then make sure you buy all the necessary packing materials such as boxes, cellar tape, bubble wrap, etc. List all the items that go in the boxes, and make sure you mention on the box what the content is. Try to be as explicit as you can when it comes to labeling boxes. Don't try to stuff as many items as you can in a box, its weight shouldn't be more than 50lbs and when sealed the top should be flat.