Published on Monday, 03 October 2011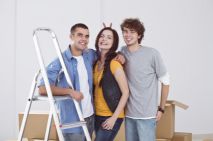 House hunting is not a piece of cake but you can make it easy if you know how to do it right. Remember these tips next time you go house hunting. These hints will help you get ready and help you find the perfect house without stress and hassles.
1. Establish a schedule for the house hunting day Determine how much time it will take to examine one house. Avoid booking too many houses in one day so you can check each house thoroughly.2. Dress casuallyWear clothes that are comfortable and suitable to the weather. You will be on your feet most of the time so avoid wearing high heels. You will find houses that require visitors to remove shoes before entering. Hence, slip-on footwear with good support is ideal.3. Consider carpooling if you have company Aside from convenience, carpooling keeps couples and family members from separating. Get the passenger seat so your focus will be on the houses and not on the road.4. Survey the neighborhoodThe environment is just as important as the house itself when finding the perfect property. Pay attention to establishments that are close to the house. Are there schools, supermarkets and banks nearby?5. Watch out for strong scents.Be suspicious of houses with strong artificial smells. This may be an attempt to cover mold and mildew odors. Mold removal is difficult and often an expensive task. Break the deal for any signs of mold and mildew.