What are My Options when Planning a Move?
Posted on 29May 2012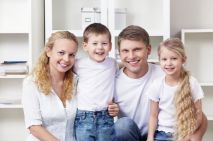 Moving is an experience that people both dread and look forward to. The prospect of meeting new people, gaining new experiences along the way and starting afresh as a family are the rewarding aspects of a move. On the other hand, most people also find the idea of a move to be quite a daunting experience. Aside from the stresses associated with the move itself, you are never really sure what the future will hold once you transfer residences.

Although moving could be a mixture of emotions for families who find the need to do so, there are things that you can do to make the transition a lot smoother - which we will learn more about in the following section.

Counting Down Your Moving Options

Let's say that you have already gotten past the anxieties associated with moving. To focus at the task on-hand, there are several things that you need to do. The number one task that you need to get out of the way first is deciding how you will go through the moving process. Here are the top three options that you can choose from:
·
Do-it-yourself move.
If you're single and you only have a small apartment, then a do-it-yourself move could be economical. For this, you need to put together all the packing supplies that you need including boxes, packaging tapes, bubble wrap, old newspapers and specialized containers for your paintings and electronic or electrical appliances. Then, you could seek the help of friends who will help you lift the boxes during the move.

Those who are on a tight budget may also take advantage of man-and-van services. These small businesses are usually owned by the driver who has a moving van and probably one or two movers. This is a much better option than lifting the boxes yourself, although you do have to still pay certain fees for the service.

·
Traditional moving services.
Next, you can hire traditional removals companies which offer moving services. If you wish to do the packing yourself, simply buy all the supplies needed and make sure that all the boxes are need before the movers arrive. You won't get help from the movers with the packing, but their job will start in lifting the already packed boxes from your home to their van. Then, they should help you unload but not unpack the boxes once your new address is reached.

·
All-in-one moving services.
Finally, you can take advantage of all-in-one moving services. The big companies usually offer this, wherein they handle everything from packing your things to hauling the boxes to the truck. Once the boxes are unloaded at your new address, they could help you unpack as well. Obviously, all-in moving services are a bit more expensive than you-pack-they-move arrangements. However, it is an ideal solution if you would not like to go through the tedious task of packing each and every item that you own.

No matter which of these options you end up choosing, what's important is to make sure that you will hire a reliable removals company who can do a good job of helping you transition from one address to another.