Useful Tips for Packing Clothes When Moving
Posted on 12Jun 2012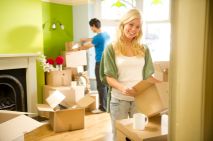 There are several things you should look out for while packing your clothes. Whether you are just packing the clothes for the next season or you are preparing for moving, you certainly need to keep them in good condition, ready for use. Clothes should be clean, well-arranged in order to take less space, with no folds and packed in a way that will keep them safe from dirt, dust, moisture and other negative impacts.

Often people think that washing and cleaning of clothes is supposed to be done once they are unpacked after moving. However, if you prepare and pack them properly at an early stage, you will be able to keep them in perfect condition longer and to wear them at the very same moment of unpacking. Not only cleaning but also ironing will facilitate the process of packing. If you have no time for ironing at least make sure that all the washing is entirely dry before folding it up. Note that velvet clothes and suits require dry cleaning so do not try to clean them at home in order to avoid damage. If you want to protect your clothes from moths, bugs and other vermin you can place some mothballs into the storage boxes. In addition use clothes freshener to keep their pleasant odor.

Folding clothes is key point for their effective storage. A clever way of keeping clothes wrinkle free and opening more room at the same time is rolling clothes up. This is a widely known travel advice that you can also apply in case of moving. Experts suggest folding the item in half and then rolling. If you are patient enough and willing to do the job in the best possible way then you can iron the clothes and fold them using a folding template. This way you will achieve a pile of beautifully ordered clothes ready to fit into a storage box.

It is essential to put your clothes in plastic before the final pack in boxes. You can use plastic shopping bags or garbage bags if you do not have anything else around. Of course there are plastic bags specially designed for storing clothes. Whatever kind of bag you decide to use make sure that it is not too enormous for your clothes pile. If you put two or more piles of clothes into one and the same bag it is more likely that your ordered piles soon will turn into a shapeless mess. Put each pile into a single plastic bag and then into the storage box. The box could be a plastic storage container or a cardboard box. The latter is usually used for temporary storage. If you have clean and spacious suitcase then you can pack up easily and quite safety into it.
Otherwise you can purchase a wardrobe box. It is specially designed for clothing, very strong and mainly suitable for suits and coats. When you hang an item make sure that its entire buttons are done up so that it won't fall off the hanger. Don't hang sweaters or other knitted items, fold them carefully instead in order to keep their shape. You can tide two or three hangers together so that to be more stable while moving. Feel free to put items inside the wardrobe case without troubling about its weight because it is light enough and handy for carrying.

Whether you are moving your clothes to a storage facility or into a new house of your own make sure that the storage place is cool and dry. Avoid too hot places for storage as well as moist units.