The Near Professional DIY Move
Posted on 09Nov 2012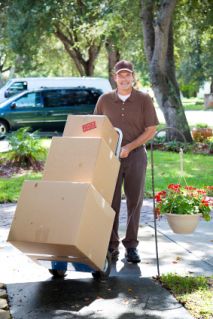 According to statistics, millions of people all over the world move house every year. This vast number is one of the reasons why there has been such a boom in the relocation business. More and move removals companies and man-and-van businesses emerge, willing to do anything to get business from all the clients in their local area. Having the assistance of a reputable moving company is a great option, but not all families or single homeowners can afford this luxury. A house move is definitely not the cheapest of services. There are a lot of fees, extra charges, packing materials to be bought and people to be tipped, making the total cost quite overwhelming. However, due to the advance in technology we can get hold of all of the useful relocating tips and guidelines on the Internet. There are literally thousands of video tutorials showing us how to pack our furniture, large appliances, de-cluttering, moving and loading the truck and all other little details involved when moving house. With so much information available online, it is no wonder that more and more people choose to pack on their own and not only that - they even hire their own moving truck and complete the entire removal by themselves. This DIY method might look like an impossible mission, but it is an efficient way to save some money and do everything the way you want to. You might not get insurance for packing on your own, so you need to be extra careful when packing up your belongings and this is the big difference from doing a self-move and hiring a team of movers.

There are a few tips which you can follow if you want to do your own DIY move in a near-to-professional way as possible. Here are some top suggestions to use:

• The quality of packing materials is worth your money. Don't think that you can move without a lot of sturdy moving boxes, rolls of bubble wrap and plenty of cellophane wrap. Get lots of packing tape, coloured stickers for labelling, at least two trolleys and anything else you think you will need. Saving money on packing materials is possible, but don't purchase poor quality packing supplies, as you will risk damaging your belongings.

• Get help from friends and family. Just because you've chosen to move on your own and not hire movers doesn't mean that you don't need any help. Call a few friends and ask them to stop by for a weekend to help you out with the heavier and larger pieces of furniture. Don't try lifting wardrobes on your own or lifting items that are too heavy without additional help. Think about your safety and the safety of everyone who is on site.

• Secure the items inside the moving truck. Loading a moving truck for a short or long-distance move is not as hard as it seems. Make sure you load the heaviest and biggest items on first, close to the cab. You can use bags of clothes, linen, pillows and blankets for cushioning.

• Choose the route wisely. If you are driving the moving truck to the new location, the road that you choose will play a huge part in the safe and successful completion of your journey. Keep in mind that any bump on the road or sudden breaking can cause something to break inside the truck. Be extra careful and don't take any chances.