The Moving Out Checklist as your Guide
Posted on 13Aug 2011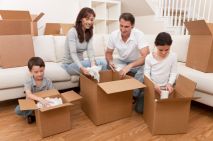 Every moving out activity will entail so many things to do and accomplish. And getting all these things done in an organized manner has always been a major challenge. One of the best tools or instruments to combat this challenge is to have an effective and well devised checklist which will serve as a guide during the move out.

The checklist, a well written and devised one, should have the following contents:

• A few months before, the checklist must have all the household stuff inventoried and counted. You need to make sure that categorization of the household things have all been made.
• A month before the moving out date, you should have all the details of the moving out company that you are going to hire. All company profiles and the services that they offer including the price quotes should be properly documented and accounted for.
• 2 weeks before the actual moving out day, the checklist must have been properly checked and verified. It should include the dates and time that all utility services will be cancelled and settled.

The checklist is a good and effective instrument only when it is devised intelligently and smartly. Following these tips in devising your checklist can really help.