3 Ways to Get Organized when Unpacking Things
Posted on 17May 2011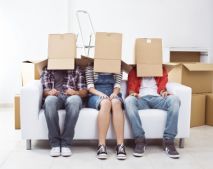 Moving out to a new place involves a lot of things to do but most essentials of these things are first, finding the right and the perfect home, second, packing your things, and lastly, moving into the new house and unpacking your things. The last one seemingly is the hardest part to do among all the three. In order to achieve organization during the unpacking of things, the following suggestions are given out:
a.
Organization entails a perfect plan. A perfect plan should be able to draw the right way on how you can efficiently save time, money, and effort in unpacking your things. This plan should be able to achieve all these, otherwise, this plan has met complete failure.
b.
Do not take the picture in general. This means that you need to unpack things one by one. Unpacking your things at once will make you easily stressed and overwhelmed. This usually results into a more problematic scenario.
c.
Relax and get a rest when needed. Do not force yourself to finish the unpacking when you are all tired and exhausted. You need to take a rest.
These are things that you need to do in order to make your unpacking activity a little organized and smooth flowing.