Removals - Pets
Posted on 30Jul 2012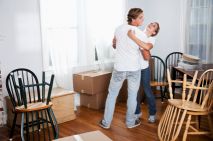 Having to deal with pets during home removals and transportation can be quite an unpleasant experience. We've all heard the saying that having a pet is an enormous responsibility, but moving a pet is even more so. This can be particularly true when you're moving with a dog, cat, even a rabbit - just any active pet, who can't be kept in a cage for extended periods of time. There are two key things in this situation - keeping the pet out of the way and also keeping it safe and happy during the whole day. This can be tricky, but with a little advance planning everything can and will go off without a hitch.

1. First thing's first. Whether you are handling the removals yourself or have hired professional removers, you cannot have your pet getting in the way, going around people's feet, knocking down boxes and so forth. This is why you should find a way to isolate the animal from the commotion. If you have a dog and a yard, a good idea might be to tie it there. If you choose this option, the one thing to make sure of is that the leash or chain you use is long enough to give the dog some room to move, so that it doesn't get restless at any point. It should, however, also be short enough so that there are no boxes, furniture or other items in the space where your dog can reach and knock them over or damage them in any other ways. Protect your pet and your belongings.

2. If your animal cannot be kept outside during the move, you will have to pick a room in the house to lock them in. This has to be a large enough space for the pet to move around in, and it will also have to be completely empty of any boxes, bags, packing supplies, etc. When an animal is left alone, it gets lonely. A lonely pet can easily become destructive, so you'll need to avoid leaving it with anything of value.

3. The next thing to think of is food, water and entertainment. Since you won't be around the entire day, you shouldn't let your pet starve or become dehydrated. This is why it is crucial to leave a bowl of food and a bowl of water with them, just in case.
Another good idea is to leave with them, while you're busy with other tasks. That way your pets will not get bored and restless.

4. Of course, human contact is also important, so as soon as you have a free minute, go and visit your pet, play with it and make it feel more relaxed. It is important that you let your pet know that its owner is still around, so that you can keep it under control.

5. Lastly, the move itself may get a bit hectic, especially with a dog barking in the backseat. To avoid any surprises, especially on a long trip, you may want to buy sedatives from your local veterinarian and slip them in your pet's food. This way they will be calm and relaxed during the entire move.