Moving Without a Checklist is a Crime
Posted on 19Oct 2010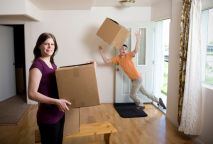 It should be your top priority to make a checklist when you move. You will tend to forget things but when you have a checklist with you, nothing will be left forgotten. Plus, moving requires you to do a lot of things and there is a possibility that you will get confused. So, the best solution to this problem is to organize your checklist and you will have good results.

On your checklist, make sure that everything is well written, in details. Some of the things you need to include on your list are:
- the estimates from the removal company you are required to pay
- the bills you need to settle
- the address form you need distribute to your friends
- the schedule about the day you need to talk to your kids' new schools
- the supplies you need to purchase prior to moving
- the list of items you need to return like books from the library and CDs from rental shops
- the packing system you will follow
- the necessary arrangements you need to deal with regarding your pet's welfare
- and the food supplies you need.

Finally, remember that it wouldn't be a crime to make a detailed list.