Moving Pods - An Inexpensive Alternative to Using Moving Companies
Posted on 11May 2011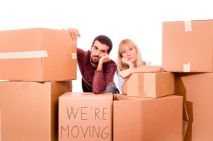 We live in a generation where people are looking for ways to make things more convenient for them. Often they use technology to complete tasks at their own pace - using the internet to hold meetings and taking photos through phones. The same thing is applied for moving house. Nowadays, people can rent moving pods so they can pack and store their belongings without feeling pressured.
Moving pods provide a convenient and practical solution for customers looking for a way to pack and store their possessions. The monthly rates of pods are not as expensive as hiring moving companies for a few a few days. Moreover, you can rent moving pods for as long as you want. No need to force yourself to finish packing and loading heavy items in a single day.
Many people use moving pods for household relocation because it saves them large amounts of money. Moving pods are the most versatile, cost-effective and safest alternative to hiring moving companies.
In this unstable economy, it is very important for us to make wise decisions on our finances. Moving pods available at very affordable rates provide a great option for those opting to execute a do-it-yourself move in order to save more money. If you want a safe and inexpensive storage option for your relocation, a moving pod may just be the thing for you.