How To Move Your Heavy Appliances
Posted on 22Apr 2015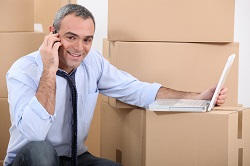 There are lots of things for you to worry and get upset over if you're moving to a new home. From the excess costs to the amount of time it will take you to pack your home, there are lots of concerns on anyone's mind during the run-up to moving day. Moving your heavy appliances is just one of many concerns that you might have, and if you're worried about your items or if you're unsure about how to move them for your relocation, here are some tips to help you.

1) What sort of appliances do you need to move?
If you're moving to a furnished home then you might not have heavy appliances to take with you, but otherwise you might be struggling with your fridge, freezer, washing machine or tumble dryer. All of these appliances are incredibly heavy and difficult to move, and some need special care and attention to avoid damage. Make a list of the appliances in your home, and check that you know how to prepare them for the move. Your fridge and freezer will need to be defrosted and cleaned in advance, and you need to make sure that your fridge stays upright for the journey to prevent a leak of fluids. Ensure that you know how to care for your appliances when relocating, and take the time to understand what they'll need for proper removals.
2) Calling in favours.
Relocating heavy equipment is going to be difficult if you don't have any help. Call in any favours owed to you by friends or family so that you can get a helping hand with lifting your appliances. Remember to never attempt to lift any of these household appliances on your own, as they are not designed for one-person handling, and you're likely to cause yourself an injury or damage to the item.
3) Hiring the right equipment.
Removal companies in your area can often rent out equipment and tools that are designed specifically to help you with furniture removals and equipment relocating. Moving dollies are trolleys that slip underneath your fridge, freezer or washing machine so that you don't need to lift them, and these can be rented from many places. You might also be interested in furniture sliding pads, which go underneath heavy items so that they can slide, instead of having to be pushed or pulled. Equipment like these are excellent for house removals, and will make your job much easier!
4) Hiring a removals company.
The only thing better than hiring professional removals equipment is hiring professional house movers. You can get all of the help that you need for relocating by hiring the removals services that you require from moving companies in your area. Lots of removals services will be beneficial to you, and if you're worried about injuring yourself or if you want to ensure that nothing gets broken when you move, hiring movers might be the best choice for you. Not only can you find moving teams who can help with to shift your heavy items, but you can also find a man with a van service, van rental and even removals and storage assistance, so that you'll have absolutely nothing to worry about come moving day. Look online to find companies in your area or ask around for recommendations.