How to Ensure that You Do Not Leave Anything Behind
Posted on 11Oct 2011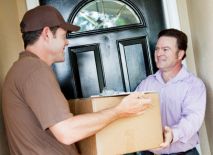 During a move, people are typically stressed about just going through with the move so they can go on with their lives. With the many things to attend to many people tend to overlook small items and sometimes even big ones until they are needed. That is why it is important that you make a checklist of everything you must check before you actually leave the house. You may begin in your bedroom as you would expect to have personal belongings already out and loaded. For sure, you would not forget to pack the mattress. But make sure that wall and ceiling fixtures that you own are also already loaded. Check all shelves and drawers to ensure that nothing is left behind. Of course, ensure there is no single piece of furniture there that needs to be loaded as well.

In the living room, the same thing should be done. Check all walls to ensure that you have not left behind a mirror and a painting. Go through the decors to make sure that everything remaining there is supposed to be left behind. Even curtains and accessories should be packed if they are yours and they are not included with the sale of the house.

Before leaving, go to the kitchen to check if appliances especially the refrigerator is unplugged and empty. Check drawers and shelves to ensure no utensils are left behind too. Toiletries should be packed as you would need them in your new home. Excess items should be disposed properly too.