How College Grads can be Prepared to be Always On-the-Go
Posted on 07Sep 2011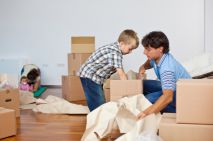 You've already received your college diploma and you need to move out of the dorm or your student's apartment. For most graduates who are fresh out of college, they have the option to move their stuff back into their parents' house while they are still making plans or looking for a job. For others who have already secured internships or entry-level positions somewhere, they will be moving to their own places which they may or may not be sharing with roommates.

Whether you're moving temporarily back in to your parent's house or if you have someplace else to move into, you need to be prepared to transfer your things at a moment's notice. The good news is that you may not have accumulated any more than a full car's worth of things unless you bought some bulky audio equipment or an accumulation of electronics gadgets or books while you were studying.

The rule of thumb to follow when preparing for a move after college is to dispose of as many items as you can. Why not sell your old books to other students who might be needing them? Only keep the ones which you might need at work. Select only a few memorabilia from your college days and dispose of the other not-so-important things. Your students' clothes shouldn't be that much, either, and you need to buy a more professional wardrobe anyway. All in all, preparing to pack your things from your college dorm to the new place that you are moving into is all a matter of organizing, so get started on it right away.