From Fixed to Portable -- Three Reasons to Switch to Storage Pods
Posted on 07May 2011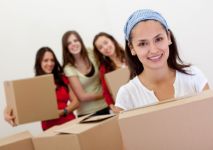 There are different reasons why someone would want to use a storage container. Some may need when doing home repairs while others doing a complete renovation may look for larger containers. Regardless of the reason, the goal remains the same and that is to free up space by shifting items in a storage unit. Storage pods are highly popular nowadays. Here are 3 good reasons why you would want to use them in your next project.
1.
Provides a safe place for your precious possessions
The walls of pods are made of sturdy metal and plywood which give maximum protection to your items. They are specially designed to withstand extreme weathers and help keep out dirt, moist and wind.
2.
Variety of size options
The sizes of moving pods range from 7 to 12 feet tall. The depth largely depends on what you are going to use it for. If you are doing a full renovation in your home, it is best to get large containers as managing two small pods may be tougher. As to the price, it generally depends on the size and the terms of the company you will rent the pod from.
3.
Portability
The best thing about storage pods is that you can bring them anywhere and use them anytime you want. This is a convenience that no other storage facility can offer. Fixed storage units are usually located in remote sites. Often, you are required to hire a truck to get to a storage facility and there are limited service hours for fixed units too.