Five Surefire Ways to Inexpensive Relocations
Posted on 25Sep 2010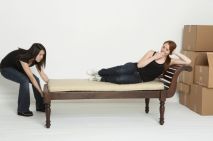 Whether you are moving across the city or across the country, relocation will always be a pricey affair. However, there are a few ways in which you can reduce the cost of the entire process. Here are four money-saving tips for your relocation.
1.

Move on your own
Employing moving companies can take out a huge percentage of your moving budget. Moving on your own is not as difficult as you think. All you need is ample packing supplies, a cheap rental truck for the transportation and a few helping hands from friends.
2.

Learn to let go
Let go of the things you rarely or never use. They acquire too much space and it can be quite expensive if you choose to bring them to your new home. The best thing you can do is sell the reusable items. By doing so, you will not only reduce the cost and efforts in moving. You will also acquire some money to use for other important stuff, like the truck rental fee.
3.

Eliminate the middleman
Instead of buying packing supplies through brokers and supply stores, purchase your packing supplies directly from manufacturers in order to buy cheaper moving boxes, packing tapes and markers. You can visit the website of the manufacturer in placing your order and have the supplies delivered right on your doorstep.
4.

Recycle
Used moving boxes from supermarkets are sturdy enough to use for relocations. Supermarkets are usually willing to give them away and you can find them in assortments of sizes. Another recyclable packing material you can utilize is the newspaper. Newspapers are a great alternative to pricey wrapping papers. They can be used as padding and fillers to ensure protection to your belongings.