Efficient Closet Packing
Posted on 15Aug 2012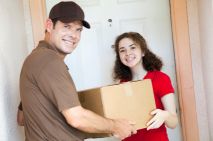 Moving out from one home to go permanently to another is a very big decision. Packing, arranging, preparing and planning form just a small part of the whole tedious and tiresome process. This article can teach you how to take care for some of the most essential belongings you will need to pack-those in your closet. You must have instant access to your clothes all the time and arranging your closet stuff in an orderly and practical way will undoubtedly be of great assistance to you.

First, you have to divide the content of the closet into several groups and take care of each one separately.

MANAGING CLOTHES
1. OBJECTS THAT HANG
The best tools you can apply to hanging objects are boxes and movable racks. Those two things are valuable and useful because their design allows you to place anything on a hanger. It is not an essential part of your packing tools but without it your clothes can't remain smoothly folded and good looking especially after going through the whole move.

2. PERSONAL PREFERENCES
Take care first for the things you like the most. After all, when you arrive in your new home you want to fill it only with belongings that will bring you comfort and pleasure.

3. SPARE CLOTHING
Then you have to deal with all the rest of the clothes that are less important to you. Do not think much of them-put them either in a box or in a bag or in some drawer of a furniture if you are keen on keeping them tidy and neatly folded. If you don't want to keep something, donate it or sell it if you have time.

4. FOLDED CLOTHES
You need to treat folded clothing with greater precision. Arrange it all by types and place each one in a different box. It should be able to carry a lot of weight since a lot of clothes can prove to be quite heavy. Socks, T-shirts, shorts, pants, jeans, sleepwear, ties and costumes must be stored separately in order to be easily identifiable and reachable later during unpacking.

5. MANAGING SHOES
Shoes are the next thing to take into account when packing the closet. Boxes are much more convenient then bags and will save you a lot more space when it comes to packing shoes. Naturally, you need to arrange them by pairs. Never stuff together too many shoes in one box because the box might get torn. Give away the shoes you don't need anymore.

6. MANAGING BAGS
Be extremely careful with expensive bags made of special leather. If any bag is stuffed too roughly in a box or anywhere at all, the damages to it could be permanent. Since their matter is quite sensitive to any kind of touch do whatever you can to protect it. You can cover them with packing paper for example. Never put one on top of the other. This will squash the leather and it will be very difficult for it to regain its smoothness.

7. MANAGING OTHER CLOSET BELONGINGS
The most important rule for dealing with any kind of closet item is placing it in a box with a right size-not too big and not too small. A couple of other useful tips include making a list in case you pack a lot of small objects and keeping books tightly into smaller boxes because this way there is no chance for the books to open during the move.