A Comprehensive Checklist for Your Necessity Box
Posted on 04Oct 2010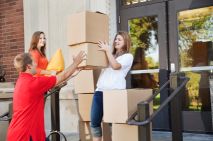 An essential box holds everything that you will need for the first 24 hours in your new home. This can be packed on the last day of your move but it can also be a good idea to pack everything gradually as you pack other stuff. The essential box should provide some food; clean clothing and other important items that you think will be of great use in your first few days in your new home.
Packing for a move is undeniably exhausting, but if it's about packing for the first night or so, you can easily plan out things. At any rate, you should start preparing a list on all the things you will need on the first day. Here's a complete checklist for you:
·
Toiletries (shampoo, soap, toilet paper, toothbrush, floss, toothpast
·
Scissors
·
Swiss knife
·
Emergency Kit
·
Dishtowel
·
Dish soap
·
Instant Coffee
·
Radio
·
Garbage bags
·
Tool Kit (screwdriver, hammer)
·
Flashlight, candles
·
Snacks
·
Unopened jars of sandwich spreads (jams, peanut butter)
·
Important documents (passports, medical records, birth certificates)
If you haven't packed your essentials box yet, it's never too late to start planning. Once the moving day comes and you're ready with your necessity box, be sure to take it with you in the car. This way, you won't have to rummage through piles of boxes to get something to eat.