A Close Look at the Two Types of Moving Boxes
Posted on 01Apr 2011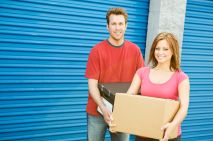 The key to a smooth and stress-free move is perfect packing. One way to ensure this is by selecting the right kind of moving boxes. Knowing which boxes are suitable for your items guarantees correct packing. When looking for moving boxes, it is important to make sure that they are not only economical but eco-friendly as well.
Generally, there are two types of moving boxes: cardboard and plastic. Cardboard boxes are usually cheaper than most plastic boxes. You can even get them for free if you know where to look. Nearly all major establishments use cardboard boxes and they usually don't mind giving away some of them.
If you can't find free cardboard boxes, you can buy used cardboard boxes online as well. As most cardboard boxes are sold second-hand, be sure to pack them with sufficient cushion to protect fragile items.
The next category of moving boxes is plastic boxes. These boxes are often used by moving businesses as they are sturdy and available in many shapes and sizes. One of the best things about plastic boxes is that they are reusable. Therefore, if you decide to buy plastic boxes, they can still serve as great storage for linens, toys and seasonal clothing.