7 Things You Can Do to Prepare for the Moving Day
Posted on 23Nov 2010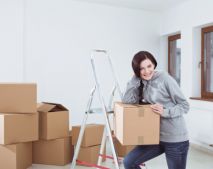 Moving companies can virtually do everything for you. They can pack your belongings and willingly move them into your new home. The stress involved in the whole moving process will be significantly reduced if you have a reputable moving company working for you. However, you still have to play your role in order to ensure a smooth and efficient move.
1.
Even though you have hired movers to pack your stuff, you can save a huge amount of time and money if you start packing some of the items yourself prior the big day.
2.
Clear the entryways and paths for the movers.
3.
Pack valuable belongings such as jewelry, documents on your own. It is better to be safe than sorry.
4.
Organize your appliances. If you are not sure how to dissemble them at least unplug them and tie the cords neatly.
5.
Do not leave small gadgets and valuables unattended as they are easy to steal. If you want to take

pictures of the relocation, be sure to keep your digital camera close.
6.
Keep similar items together so movers can pack them in one box.
7.
Prepare some food and drinks for the movers.

It does not have to be a very expensive meal. A pizza or any fast food would suffice. Keeping cold bottles of water at hand will also keep the movers hydrated and energized throughout the job.